Map Generator
Sketch plugin to fill a layer with a map generated from a given location using Google Maps and Mapbox
eddiesigner
v3.1.0 is compatible with Sketch 4.0.0
README
Shortcuts
Insights
Releases

12

Activity
Map Generator 3.0 - Sketch App Plugin
Map Generator better than ever!
Design beautiful map interfaces, mobile applications and more in less time with Map Generator 3.0. Now powered by Google and Mapbox.
If you use it and you like it, please consider to make a donation to support its development! 🙏🏼
Mapbox
Google Maps
How it works?
Create a shape and select it.
Run the Map Generator Plugin:
Google Maps
Plugins > Map Generator > Generate a Map using Google Maps
Shortcut: Shift+Cmd+M
Mapbox
Plugins > Map Generator > Generate a Map using Mapbox
Shortcut: Shift+Cmd+B

Choose the location, styling and zoom.
Voila! Your shape will be filled with a map.
What's new?
👉🏼 If you use Mapbox, now you can use your own custom styles!
🔥 Map preview! Now you can see a live preview before generating a map.
📍 You can move the map preview, drag a pin to pick a location and change the zoom with no effort. You can still change the address settings as before if you wish.
💅🏼 A whole new UI.
🌓 Dark mode support.
🛠 Improvements and bugfixes.
Thanks to Guillermo for the logo!
Installation
Install with Sketch Runner
With Sketch Runner, just go to the install command and search for Map Generator. Runner allows you to manage plugins and do much more to speed up your workflow in Sketch. Download Runner here.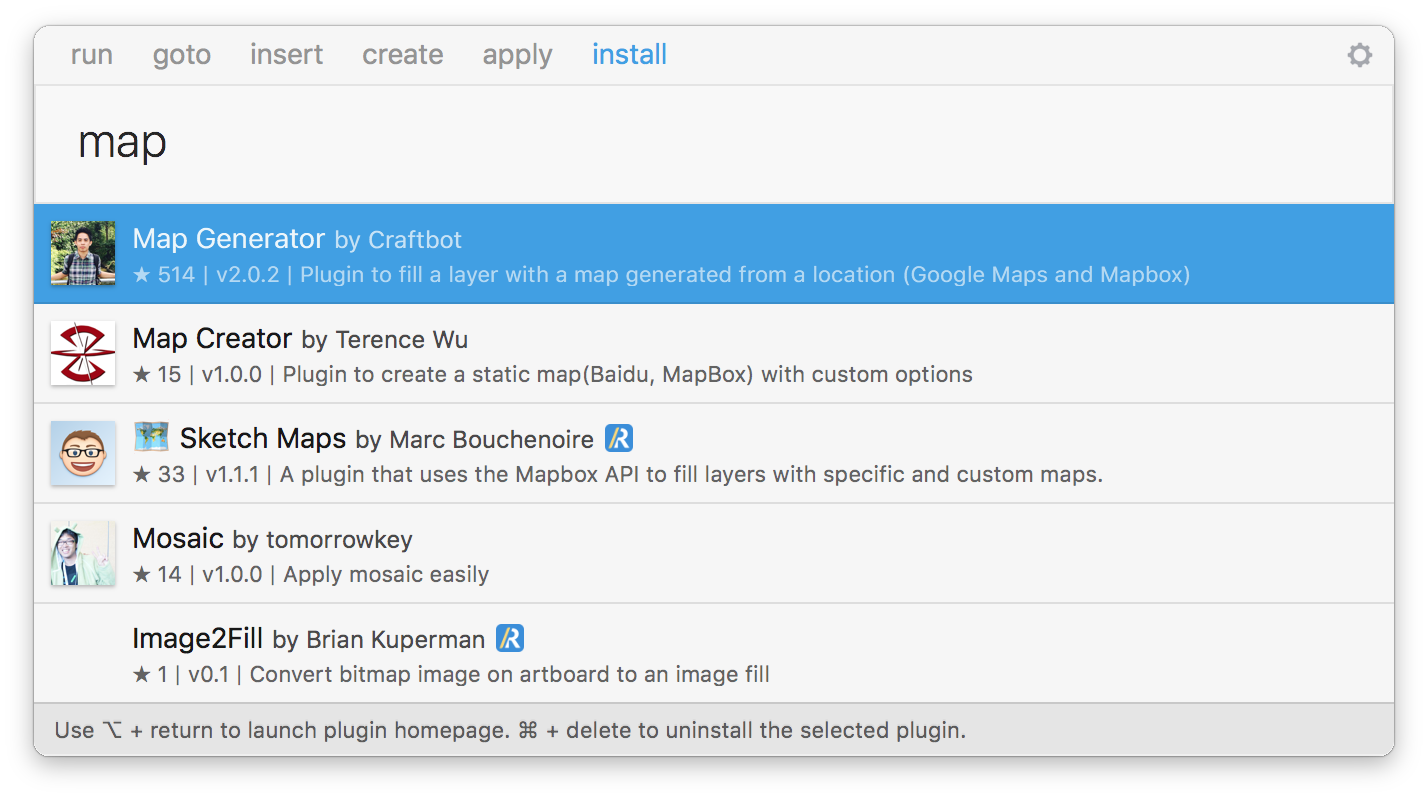 Manual
Download the Zip and unzip the package
Double click on Map Generator.sketchplugin for auto installation
Compatibility
The plugin is compatible with Sketch 4+.
Issues
If you have any questions or troubles with this product, please feel free to open an issue here.
---
Join the discussion
Download v3.1.0
Usage Activity
Avg. user activity in the last 30 days
Stats
9904 downloads all–time
55 downloads this week
221 downloads this month
About this plugin
eddiesigner published this plugin 3y ago.
v3.1.0 is the latest of 12 releases
Native updates are supported within Sketch.app.